It's Time to Sing!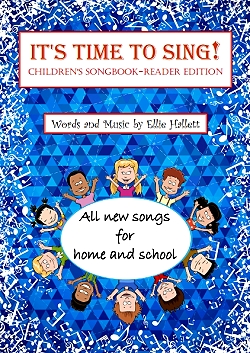 Fifteen original songs have been set out in two editions: an A5 illustrated Children's Songbook-Reader Edition, and an A4 illustrated Teacher's Edition.
All except two songs were written and composed by Ellie Hallett * for Prep to Year Six children, combining reading, general knowledge, vocabulary development, social togetherness and of course – singing!
The Teacher's Edition has ideas for actions and teaching suggestions for every song.
---
Click here for first lines of each song and free MP3 downloadable backing tracks. Note that each backing track has a short piano introduction.
Titles of It's Time to Sing Songs:
The New Alphabet Song
Days of the Week
Months of the Year
My Family
Nocturnal Animals
Comedy Counting
Boat Song
Opposites Song
Noisy Animals
Solomon Grundy
The Reading Song
The Bat and Bird Song
You'll Never Know Until You Try (HIGH Voice)
You'll Never Know Until You Try (LOWER Voice)
The Hen and the Carp (The poem was written by Ian Serralier; music is by Ellie Hallett)
The Planets (The melody is from Mozart's K382, arranged as a song by Ellie Hallett)
---
The fifteen songs combine music, actions and oral language. They have enough learning room to widen the horizons of gifted and talented children, build the confidence of average and struggling learners, and enhance word knowledge, reading fluency, social cohesion and vocal clarity for all abilities.
Research has shown that singing not only provides therapeutic benefits for ADHD children, but boosts everyone's emotional camaraderie and sense of well-being. For those with an Autism Spectrum Condition, remarkable things have been shown to happen when singing is added to language.
The songs in It's Time to Sing! are graded in age-appeal, starting with a new version of the ABC song through to a song that teaches the order of the planets from the sun.
And — don't be surprised when the children in your care say, 'Let's do it again!'
---
Purchase Options
Secure PayPal or credit card through PayPal.
Children's Songbook
(student's copy)
AU$9.50 each
Children's Songbook
CLASS SET of 10 books
AU$70 per set
Teacher's Edition
(per copy)
AU19.00
Above prices include GST. FREE P&P in Australia.
---